Air conditioners and heat pumps for individuals and businesses
Air conditioning: elegant, silent and draught-proof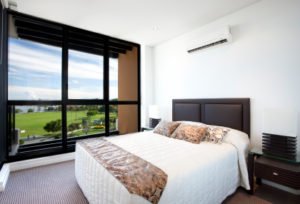 Noisy air conditioners are a thing of the past. Today it is perfectly possible to integrate an air conditioner in such a way in your sleeping, living or office quarters that it is completely noiseless and invisible.
Service & Offer
Together with you we will make the right choice from our varied supply. In our company you will find equipment with several capacities and in diverse designs. You will be amazed by the many possibilities and combinations.
In our company you have a wide choice in apparatuses for the walls, floors or build-in. Or you can choose for the all-in packet of Climaclick.
With Climaclick you will kill three birds with one stone: ventilation, heating and cooling with energy saving apparatuses. The system is completely draught-proof and noiseless and is elegantly integrated into a stretched ceiling.
Free advice or estimate made to measure on 02/395 85 00 or via limko@limko.be