Rotaries
External rotary

The milker can carry out all actions on a fixed place and at the same time keep an eye on cow circulation in the milking parlour. With two milkers this external rotary can milk more than two hundred cows an hour.
ADVANTAGES
– durable layout
– permanent cow circulation
– short or no walking lines
– a good overview on cow circulation
– a large capacity (from 28 to 90 animals)
Internal rotary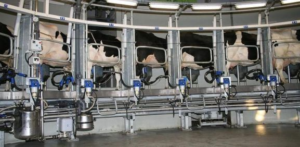 This milking parlour combines intensive milking with a long duration. Its size, build and layout ensure quick and easy milking. The milker can operate the installation from a fixed place.
ADVANTAGES
– durable layout
– optimal productivity
– permanent cow circulation
– short or no walking lines
– large capacity per man per hour
– easy selection of cows on the exit
– large capacity (from 18 to 36 animals)