Silo milk cooling tank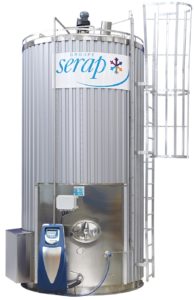 The largest vertical milk cooling tank of 40,000 litres can already be placed on a surface of 15 m2 .
FEATURES
volume of milk: 10,000 to 40,000 litres
can be combined with every type of milking robot
perfect cooling speed for optimal storage of your milk.
separate cooling group or layout with separate condenser.
extremely hygienic thanks to an automatically built-in cleaning system.