Second-hand milk cooling tanks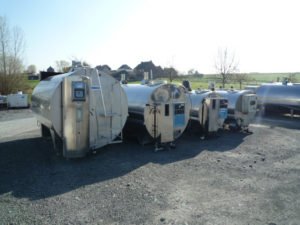 In our company you will find second-hand milk cooling tanks of about every brand, size or price.
– volumes of 300 to 15,000 litres
– with manual cleaning
– with automatic cleaning
Our second-hand milk cooling tanks are completely renewed or in their original state but technically always completely checked.
At deliveries in Belgium we can install the milk cooling tank for you with warranties of 6 months to 1 year.
Don't hesitate to contact us for more information regarding our second-hand tanks.